REMEMBERING THE NIGHT MY FAMILY SHARED WITH THE GREAT HUGH MASEKELA – A MEMORY THAT SHALL NEVER BE FORGOTTEN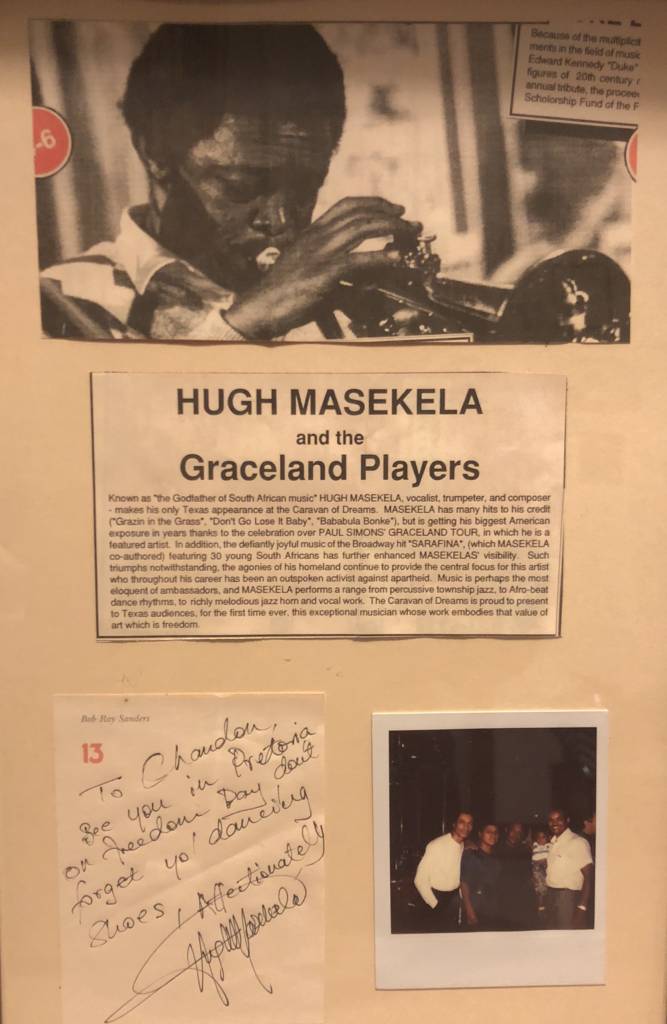 On hearing the news of his death, I immediately went to the framed mementos hanging on the wall of my home office. Inside the frame are an article announcing Hugh Masekela's upcoming appearance in Fort Worth; a dimly-lit Polaroid picture of Masekela with a band member, my wife and me and our then-2-year-old son, Chandon; and a handwritten note to my son whom Masekela earlier had held in his arms.
The year was 1989; the place was the Caravan of Dreams in downtown Fort Worth where Masekela was performing. And, yes, we took our small child to several performances at the famed nightclub, and he behaved beautifully listening to jazz and blues there.
Masekela, a delightful human being who just happened to be one of the world's greatest trumpeters, was very generous with his time. I think he was particularly intrigued that someone in Fort Worth knew as much about South Africa and its issues as I did. So we talked seriously about the situation in his homeland, but I also remember that we laughed a lot that evening.
After the show, he signed an autograph for my son, which read:
"To Chandon, See you in Pretoria on Freedom Day, don't forget yo' dancing shoes. Affectionately, Hugh Masekela."
On a second sheet of a Channel 13 note pad, he printed his name and wrote his phone number for me, and genuinely encouraged me to call him if I wanted to talk some more.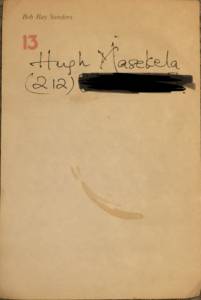 I never did call him, but on the news of his death I recalled having saved the telephone number, and quickly was able to retrieve it from a file in my office.
Eleven months after that meeting in Fort Worth, Nelson Mandela was freed from prison. And five years later in 1994, when Mandela was elected president of South Africa, I took my 7-year-old son to my office and re-read him Masekela's note to him.
"This is the day Hugh Masekela was talking about," I said to him. "This is 'Freedom Day' in South Africa. Now, go put on your dancing shoes."